Introduction
Avraham Sand
Certifications
'The measure of Abraham's passion: "Your ointments yield a sweet fragrance; Your name is like finest Oil [Song of Songs 1:3]". What did Abraham resemble? A flask of Myrrh, surrounded by wadding placed in a corner, so that its fragrance could not escape. But when it was carried from place to place, its fragrance wafted out [Midrash Rabbah Genesis 39:2]'.
Introduction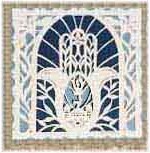 Avraham Aromatherapy has been a pioneer in the field of Aromatherapy for over two decades. We provide the very highest quality Organic and Wildcrafted Essential Oils to healers, therapists, perfume makers, and discriminating consumers worldwide.
Avraham Aromatherapy owner and director, Avraham Sand, is a professional Aromatherapist who was personally trained by Master Aromatherapist Patricia Davis, founder of the London School of Aromatherapy. Over the years, Avraham Aromatherapy has built a reputation for quality, based upon Avraham's expertise and uncompromising high standards. Avraham's extensive travels throughout the world have led him to the very best growers and distillers of Essential Oils, Absolutes and Carbon Dioxide extracts.
All Avraham Aromatherapy products are produced from the very highest quality Essential Oils extracted from Organically grown or Wildcrafted plants, grown under ideal conditions, without the use of chemical fertilizers or pesticide sprays.

Avraham Aromatherapy's Quality Organic line of over 100 Essential Oils form a complete spectrum of pristine aromatics of the very highest quality on Earth. They are all produced from Organic or Wildcrafted plants grown under ideal conditions, without any use of chemical fertilizers or pesticide sprays.
Our specialties include the most beautiful Rose Oils and Absolutes from throughout the world. We also offer 12 Healing Blends to remedy various common ailments, a lovely line of natural Botanical Dance Perfumes, the stunning Deluxe Botanical Perfumes, some lively Botanical Sprays, the biblical Temple Incense Oils and the mystical Kabbalistic Sefirot Blends.
When you are in the Holy Land, please call us at (08) 926-4688 to arrange for a personal visit to our lovely home and shop in the Judean Hills of central Israel. Come by to sample our Oils, whenever you are in the area. We look forward to meeting you!
Temple Mount – Jerusalem
photo: David Shankbone

Back to Top
Avraham Sand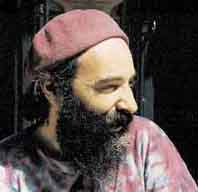 Avraham Sand has been a pioneer in the world of Aromatherapy in America, Canada and Israel since 1984. Originally trained personally by world-leading Aromatherapist practitioner and author, Patricia Davis, Avraham has also studied with other master practitioners and fragrance experts throughout the world.
Avraham currently manufactures 8 complete Aromatherapy product lines featuring his high-quality Essential Oils.
His first product line which appeared in stores in the early '80s, the Botanical Dance Perfumes, introduce a "new" concept in perfumery: high-quality natural Essential Oil perfumes that both highlight one's own fragrance and are an excellent health-care treatment.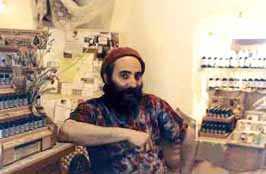 Next to be developed was an early version of the 130 Quality Organic Oils followed by the 12 Healing Blends. These blends were carefully crafted over several years of research and testing in partnership with John Steele of Lifetree Aromatix, a master of fragrance and formulations.
The Deluxe Botanical Perfumes line of 28 rare natural fragrances was established to make the world's most beautiful and hard-to-find natural Oils available.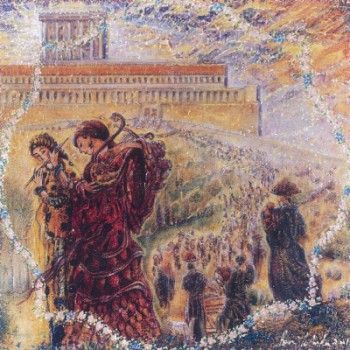 artwork by Yitzhak Ben Yehuda
Most recently, Talmudic studies in Israel over the past 30 years have culminated in the development of two new unique product lines:
The Temple Incense Oils, a complete Set of natural Oils which correspond to the 11 sacred plant materials used to make the Incense in Solomon's Temple; and the new amazing Sefirot Blends, a mystical Set of 11 beautiful Blends based on the Temple Incense as it relates to the Kabbalistic Tree of Life.
Throughout the process of creating his products, Avraham has continually travelled throughout the world to study different aspects of his work, and find the best producers of Essential Oils. His travels have included extensive bicycling across large areas of North Africa, Europe and the Middle East in search of the best quality Oils produced in each region.
During his extensive travels, Avraham often enjoys visiting with his clients. When arrangements are made, he is well prepared to present unique, interactive and very educational Workshops in Holistic Aromatherapy; in Aromatics of the Jewish Sages; or in Ancient Mystical Aromatics, for groups usually ranging in size from 10 to 50 people. For more information contact Avraham at contact@avaroma.com.
In the course of his work, he has personally trained several hundred professional Aromatherapy practitioners, mostly Massage professionals who have incorporated Aromatherapy with their practice.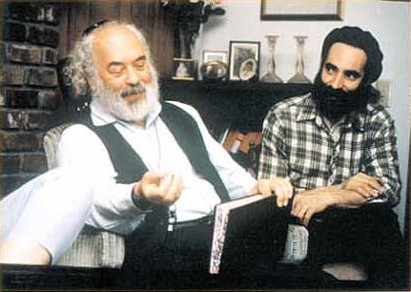 Avraham Sand and world-renowned Talmud scholar and singer Rabbi Shlomo Carlebach

Back to Top

Back to Top