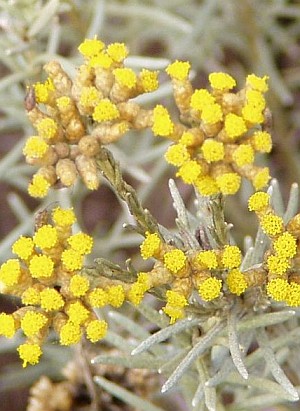 Helichrysum italicum – Immortelle
photo:  Júlio Reis
There is a wide range of quality among the natural Essential Oils produced and available on the market today. Several important factors contribute to this, including the overall quality of the plants used for extraction, the expertise of the extraction process, and the conditions of storage of the finished product.
Today, the vast majority of Essential Oils in production are mass produced for the flavor and fragrance industry. The focus of production of these "commercial grade" Essential Oils is maximum quantity yield, and quality factors are of a more secondary consideration.
Only a very small percentage of the Essential Oils produced today are of a suitable quality for therapeutic treatment use. In our view, for Essential Oils to be of "Aromatherapy quality" they should be freshly produced and properly extracted from the finest quality plants of optimum fragrance, and free of chemical fertilizers and herbicides.
We have learned over the years to choose our Essential Oils very carefully. In particular, close consideration is paid to the reliability of the source.
The majority of our Essential Oils are purchased directly from quality-oriented agricultural producers and distillers around the globe who we and our purchasing agents have come to know and trust for excellent work. These are very well-established producers who specialize in Organic (pesticide- and chemical-free) cultivation and high-quality Essential Oil production.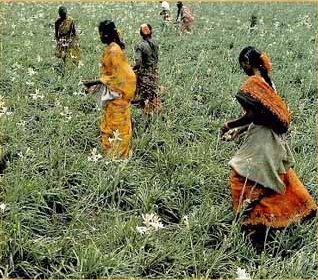 Tuberose being gathered in India. The flower emits an extraordinary scent. Traditionally they were the symbol of voluptuousness and young girls were forbidden to smell them in case they fell into a trance of voluptuous intoxication from which they could not easily escape.
We are very particular in all of our Essential Oil selections. When you experience our Oils, you will notice the difference in quality relative to "commercial" grade. The full-bodied fragrances are a prime indication of superior plant material, proper extraction and maximum freshness.
In medicinal treatment, excellence of the Oils in every respect is vital for safety and of prime importance in achieving optimum results. We have therefore prioritized quality considerations over price factors, while still keeping prices affordable.
We suggest that you purchase your Oils in small sizes which will be finished within 12-18 months, as this will maximize freshness. Professionally speaking, the shelf-life of quality Essential Oils is usually about two to three years at most under ideal storage conditions. With our high-quality Oils, many varieties actually improve over the first year after extraction!
An Aromatherapy treatment – whether Bath, Massage or Inhalation – requires only about 6 to 10 drops of Essential Oil. Therefore the average cost per treatment for the use of our Oils works out to be very nominal (at most about half a US dollar), for a quality treatment that lasts for 3 days.
Lower quality and less expensive Oils are widely available from hundreds of companies, and these may have useful purposes such as for fragrancing herbal potpourris. However for Aromatherapy treatment and healing purposes, we are convinced that it pays to buy quality, a very worthwhile investment in fragrance enjoyment, safety and optimum health benefits.

Back to Top