Basic Aromatherapy Course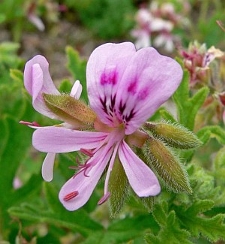 Pelargonium graveolens ~ Geranium
photo: Stan Shebs
A Personal Invitation
"As founder and director of Avraham Aromatherapy, I would like to extend a warm personal invitation to take part in our online Aromatherapy School. My Course has something very special to offer to any serious student, and it can help you to establish a prosperous, rewarding, and wonderful career as an Aromatic Healer. Be the best practitioner that you can be. You'll find our Aromatherapy training to be dynamic, highly enjoyable, and life-changing." —Avraham Sand
Please contact me directly at any time to discuss any aspect of the Course. - Avraham info@avaroma.com
Who Is Avraham Sand?
Aromatherapy Master Avraham Sand has been a pioneer educator and product designer for over twenty-five years. As an expert in Organic Essential Oils and their uses in Health and Healing, he has personally trained and certified hundreds of professional Aromatherapists. His unique system of "Fragrance Testing" is the most accurate and reliable process to precisely determine the correct formulation of Oils for any health condition.
What Will I Learn?
In this powerful training program you will learn the art of highly effective Aromatherapy treatment, and how to do the most successful healing work using Organic Essential Oils. Through comprehensive study and hands-on experience, you'll acquire knowledge of little-known techniques, and the practical applications of Aromatherapy on a professional level.
Here are some of the topics we will explore in the twelve weekly lessons:
The Sense of Smell
The Nature and Quality of Essential Oils
Extraction Methods
Safety Concerns
How to Choose the Correct Oils for a Treatment
Formulating a Highly Effective Blend
Massage, Bath and Inhalation Treatments
Natural Perfumery
Spiritual and Mystical Aspects
Essential Oil Chemistry
The course requires only one to two hours of study per week, and provides a fundamental knowledge of Essential Oils and their therapeutic properties. Each student will gain hands-on experience and cutting-edge instruction in various treatment modalities. Upon completing the Course, you will have a basic familiarity with all major forms of Aromatherapy treatment.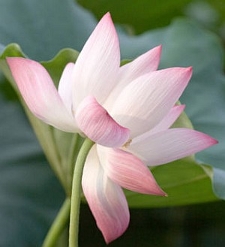 Nelumbo nucifera ~ Pink Lotus
photo: Romain Guy
Is This Course Right For Me?
Whether your heart's desire is to begin your journey toward training as a professional Practitioner... or simply to broaden your knowledge of Essential Oils and their uses for the benefit of yourself and your family... the Basic Course will provide you with a strong foundation in all aspects of Aromatherapy practice. Prior experience in Healing Arts is useful but not strictly necessary. Your sincere interest and devotion to quality study and practice are our highest criteria.
Already a Healing Arts Professional?
Adding Aromatherapy to your healing skills will not only greatly benefit your clients, but will also enhance your own experience of hands-on healing--not to mention the health benefits you will attain from working with Essential Oils on a daily basis. Aromatherapy is a wonderful adjunct to all types of Healing Arts. In addition to traditional forms of Massage, practitioners of Acupuncture, Herbal Medicine, Reiki, Shiatsu, Midwifery, Cosmetology and all types of Energy Healing work... in addition to Naturopathy, Chiropractic, and even Allopathic Medicine will find that Aromatherapy can expand their scope of practice and provide another valuable modality for effective Healing.
Not Just Another Massage
You will learn how to use the correct Essential Oils to make any Massage treatment far more effective! Your clients will receive the significant benefits of a professionally applied Aromatherapy treatment that cannot be achieved using plain or improperly fragranced vegetable oil.
Far beyond a "one hour" Massage, your treatments will impart therapeutic benefits for up to three days, as the Essential Oils go to work healing and restoring balance in the body. Using Essential Oils is also far more enjoyable aromatically than simply using plain vegetable oil - both for the client and the practitioner.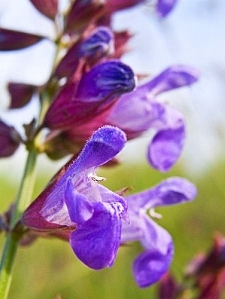 Salvia officinalis ~ Sage
photo: Roberta F.
Guided vs. Self Study
You may choose one of two possible tracks: the Guided Course, or the Self Study Course.
The Guided Course consists of twelve lessons and assignments, customized to your individual focus, requirements and interests. Avraham himself will be your personal tutor and consultant during the entire three month course and for an additional month thereafter. You will receive an Advanced Certification upon completing the Guided Course.
The twelve lessons and assignments are also available for independent Self Study. Although you will not have the personal tutoring component offered in the Guided Course, homework is still personally overseen and approved by Avraham. You will receive a Certification upon completing the Course.
Every graduate will leave the course with an excellent fundamental knowledge of Aromatherapy and will be qualified to practice on a Basic professional level.
Note: Those seeking to use Aromatherapy in combination with professional Massage, who require Massage Certification, will need to seek this Certification separately.
Graduates of the Basic Course will meet the prerequisites to enroll in our Advanced Training Program, which takes everything you've learned to the next level. Graduates of the Advanced Program will earn a Master Aromatherapist diploma.
Upon enrollment, your personal program will begin with an introductory letter and Lesson #1, which will be sent out to you immediately by return email.
We're excited to have you as a student in our unique Program, and look forward to our Aromatic adventures together!
Enrollment
Guided Course - $495.00

If paid in full, only $445.00
(save $50.00)

Self Study Course - $250.00

Pay in Full, only $225.00
(save $25.00)

- or -
$250.00 Deposit and
$245.00 due after Lesson #6

- or -
$125.00 Deposit and
$125.00 due after Lesson #6
Please contact me directly at any time to discuss any
aspect of the Course. - Avraham info@avaroma.com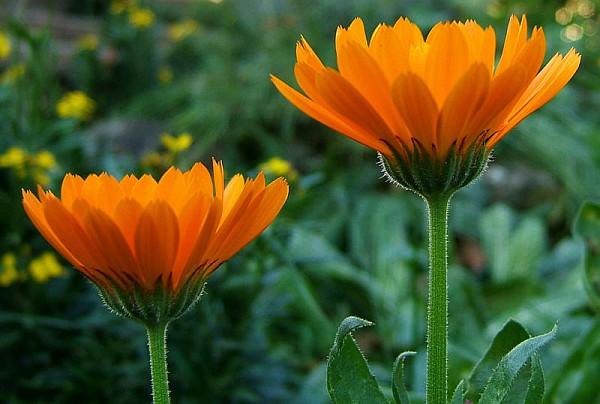 Calendula officinalis ~ Calendula
photo: Wildfeuer