History
Life Force
Extraction Methods
Natural vs. Synthetic
History
Most commonfolk of centuries past had a deep love and respect for nature and an intimate knowledge of plants. They knew precisely how and when to cultivate and harvest, and they were well aware of the medical and cosmetic uses of local plant life.
The doctors and healers in those days were also the perfumers and cosmetologists, and true beauty was well known to be the expression of a state of radiant inner health. A perfume or cream would be chosen as an herbal remedy while serving at the same time as a pleasantly fragrant cosmetic application.

The four main perfumes of the
Hebrews (clockwise from top left):
cinnamon, balm of Judea (now
extinct) being collected from cut
bark, nard and valerian
Historically, the first people to dispense Essential Oils and other aromatics were the high priests of the ancient Egyptians, Hebrews and other cultures of the Far East.


An Egyptian with
his incense burner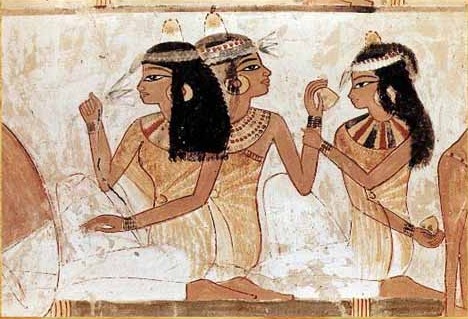 Essences were later used ceremonially and cosmetically by the royal families and the most wealthy nobility. As usage became more common, these highly prized plant extracts were employed by physicians as the basis of most medicines and to remedy epidemic diseases. Production expanded and merchants began to export rich unguents, scented oils, creams and aromatic wines all over the Mediterranean world and Arabian Peninsula.
A 1,500-year-old wall painting shows three Egyptian women at a banquet wearing cones of scented unguent. The heat would melt the cones, sending cooling runnels of scent trickling through their ringlets and down their bodies.

Back to Top
Life Force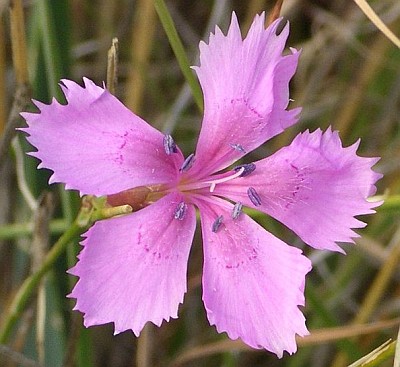 Dianthus caryophyllus   ~   Carnation
photo: Zeynel Cebeci
The fragrance of flowers and plants arises from their Essential Oil content.
Present as tiny droplets between the plant cells, these aromatic Oils occur mostly in roots, barks, wood, resins, leaves, flowers and the peel of citrus fruits. The extracted Essential Oil is a super-concentrated living expression of the personality and "spirit" of the plants, incorporating both medicinal and aromatic characteristics.
Essential Oils regulate botanical hormone systems. They also protect the plant against climatic change, disease and other imbalances.
Miraculously, the Essential Oils tend to work within our own body in much the same way, balancing and protecting the delicate life support systems.
When properly extracted, the plant's vital life force can be effectively retained for several years with proper storage. The shelf life of quality Essential Oils, properly bottled and stored, is about 3 to 5 years. Citrus Oils have a shorter shelf life.
During this period the Oils gradually lose their healing potential and fragrance. Proper storage techniques include the use of dark-colored airtight glass bottles, a minimum of air inside the bottle, and a cool surrounding temperature, although refrigeration is usually not necessary.

Back to Top

Enfleurage is a costly, labor-intensive process
that yields the highest quality absolute because
it does not involve heat, which always alters a fragrance.

Regarding extraction methods, the Essential Oil must be removed from most plant varieties within a few hours or at most a few days after harvesting. For this reason, the extraction process usually takes place right on site at the plantation, with the operation of large-scale equipment.
Fruit skin Oils such as Orange, Lime, Grapefruit, Tangerine and Bergamot are produced by a mechanical cold-pressure squeezing of the fruit peel.

A traditional method of extracting oil involved subjecting the plants to pressure
Most other Essential Oils are obtained by a process of steam distillation of the part(s) of the plant where the Essential Oil is most concentrated.

To the left, the process of steam distillation as it is practiced today.
| | |
| --- | --- |
| Enfleurage, an extraction method, is used for delicate flowers like the jasmine above which are placed one by one on a glass plate, stacked and left for days for the flowers to release their oils. | |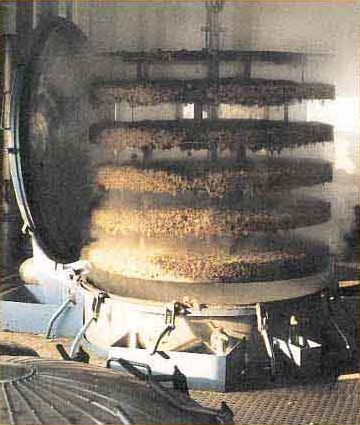 On the average, one ounce of plant material will yield about one drop of pure Essential Oil. The yield of Oil can, in a few varieties, range as abundantly high as 10% by weight; in many flowers it can be as scant as only 0.02%, when careful extraction will result in a fine Oil of exceedingly high value. For example, it requires more than 1,000 pounds of Rose flowers to produce just one pound of pure Rose Oil!
For extraction with volatile solvents, the Roses are shoveled on to grilles and steeped with hot solvents until the Oils and waxes are dissolved out. At this point, the mixture is siphoned off and, when the extractor is opened, the spent roses remain, forming a surreal "wedding cake."

Back to Top
Natural vs. Synthetic
As a result, prices for the true Oils of Rose, Jasmine and certain other "Deluxe Botanical Perfumes" range in the thousands of US dollars per pound, even when purchased in volume directly from the producers. Most other delicate flowers give even less yield, and are simply not commercially produced or available at any price. All of this has led over the last 50 years to an expanding industry in synthetically produced aromatic chemicals.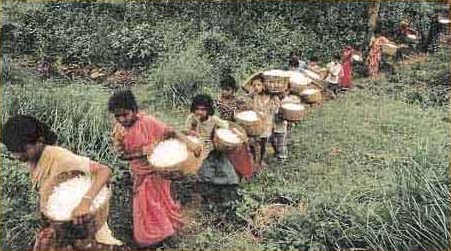 Pickers carry their baskets of Indian jasmine flowers from the fields to be weighed.
| | |
| --- | --- |
| By manipulating the molecular structure of certain petroleum industry by-products, scientists have learned to create in the lab an enormous array of fragrances, many quite unknown to nature. | In the laboratory the dispenser weighs out the formula in the manufacture of chemically produced essences. |
Recent advances in this field of chemistry have flooded the market with these low-cost imitation fragrances, which are today the basis of almost all perfumes, cosmetics and a rapidly growing number of household products.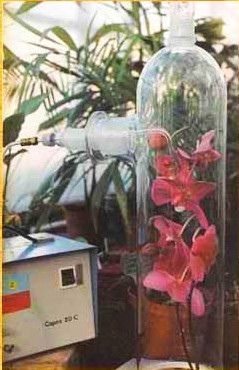 Consumers should be aware that in an effort to maximize sales, these synthetics are commonly misrepresented as natural botanical extracts, and even in the natural food industry the chemicals proliferate and sometimes dominate the market. Although an aromatic chemical can be formulated to crudely imitate a specific natural fragrance, it has thus far been impossible to recreate in the lab the vital life force of a natural Essential Oil. Thus the aromatic chemicals are not used in the practice of holistic health care, and those who have come to appreciate the delicate, full-bodied aroma of a natural fragrance usually find the synthetic varieties overpowering, lacking in bouquet and quite unappealing.
Headspace analysis analyses the scent of living flowers and aims to reproduce it in the flacon. The growing flower is covered with a sealed glass bottle and the air pumped out. Next, pure air is pumped in and the blossom releases its perfume into this naturally.
| | |
| --- | --- |
| Those of us who grew up in a rural, naturally fragranced environment will usually find that we prefer the true botanical aromas. However, many people, especially city-dwellers, have become so accustomed to chemical fragrances in their environment that they often tend to prefer the aromatic chemicals to the natural Essential Oils! An olfactory retraining period for these folks may be necessary before the natural botanicals can be fully appreciated. The transition of the olfactory appetite from aromatic chemicals to a preference for natural Essential Oils is usually a gradual process, which parallels in many ways the transition to a balanced natural foods diet. | |

Back to Top