Pelargonium graveolens   ~   Rose Geranium
photo: Stan Shebs

Avraham and Leah Sand
Arugot HaBosem Shop
Doar Na Hamercaz
ISRAEL 73122

Email: contact@avaroma.com

Phone: +972-8-926-4688
Fax: +972-8-926-2096
Placing Your Avraham Aromatherapy Order

The easiest way to place your order is by using the Shopping Cart, found throughout our Website.  When you are ready to checkout, you will be transferred to PayPal, our secure gateway for processing online payments.  PayPal accepts VISA, MasterCard, Discover, and American Express.  A PayPal account is not required.

You may also Email us at sales@avaroma.com or call

+972-8-926-4688

with your order.  If you email, be sure to tell us your preferred payment option, and include the desired size for each item, your name, shipping address, and phone number. We will reply with your order confirmation and shipping details. Or, if you already know your order total, click "Pay Now" below to send payment immediately.  Please then also send an Email advising us of your PayPal transfer and all of your order details.

Payment Options

Pay Online with PayPal ~ No PayPal Account Required

Click below to Pay Now ~ Please add shipping cost when applicable.

-or –




Pay Us Directly with Visa or MasterCard


Call us at

+972-8-926-4688

,
or Fax us at

+972-8-926-2096

with your credit card details, and we will charge your Visa or MasterCard directly.

-or –




Pay by Check


Email your order to us, and we will reply with your order total and our mailing address. Your order will be shipped out immediately as soon as your Check arrives.
Anyone can buy at the Wholesale prices listed on our Website with a minimum total order of $100.00.
Free Shipping on orders of minimum $350.00, or else add $15.00 Shipping charge.
Fast Express, fully-insured Delivery by EMS Courier through the Post Office.
Small Orders may be sent by Registered Mail Insured, unless EMS is requested.
Immediate Shipment with Credit Card Payment or PayPal.
Leah and Avraham Sand

If you happen to be in Israel, please visit us at our new shop Arugot HaBosem where you will find all of the Avraham Aromatherapy product lines, as well as other herbal medicines and natural health-care products from throughout the world.

Please contact us in advance to arrange for a personal appointment.

We look forward to meeting you!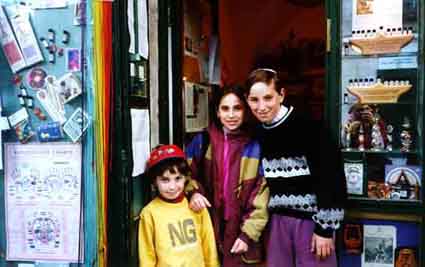 Elisha, Chanita and Yacov Sand
---
Avraham Sand conducts fascinating Aromatherapy workshops and lectures throughout the world.
Please contact us if you are interested in hosting him for an aromatic adventure!

Back to Top