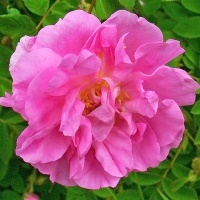 Rosa damascena ~ Damask Rose
photo:
H. Zell
A World of Fragrance
Welcome to Avraham Aromatherapy (formerly Tiferet International Aromatherapy). For over 30 years we have been Aromatherapy innovators, pioneering landmark developments in the art, science, and practice of Aromatherapy.
Bringing you the very highest quality Essential Oils on the planet, we offer over 120 pure Organic Essential Oils and other related products. Experience our quality Rose oils, natural perfumes, treatment blends, aromatic sprays and mystical aromatic products.
Avraham Aromatherapy sources from the world's best growers, wild harvesters and custom distillers of Essential Oils, Absolutes and Carbon Dioxide Extracts. This is made possible by our extensive travels throughout the world, to carefully select and personally meet our producers. Our Organic oils offer a spectrum of pristine aromatics, produced from Organic or wild-harvested plants grown without chemical fertilizers or pesticide sprays.
Whether you wish to practice professional Aromatherapy or simply master the art, one-on-one cutting edge Aromatherapy education is available online with our director, Avraham Sand. Himself a Master Aromatherapist, Sand trained under the world-famous holistic therapist and author, Patricia Davis, founder of the London School of Aromatherapy.
In concert with our uncompromising commitment to quality, we are excited to offer our expertise, products and outstanding customer service to you: healers, therapists, medical workers, perfume makers, and discriminating consumers worldwide.