Rose Oils of the World
True Oils of Beauty, Love, Youth, Purity, Perfection and Immortality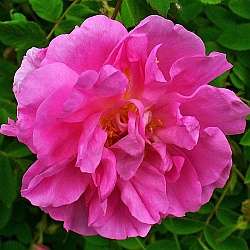 Rosa damascena ~ Damask Rose
photo: H. Zell
The true and authentic Oil of Rose is extremely rare and valuable. Intensive care is needed in cultivating the Rose bushes, and an extremely small yield of precious Oil is obtained in the extraction process. The Rose is known as the "Queen of all Flowers", and the true Oil is considered to be the "Queen" among all natural Essential Oils. True Rose Oil certainly has the most complex chemistry, with over 300 natural components. It is one of the most frequently adulterated and/or synthetically imitated of all fragrances. As world demand increases, true and authentic Rose Oils of different types are becoming extremely hard to find, especially the high-quality Organic Oils.
Until now!
Rose Oils
Wholesale Prices
| | | |
| --- | --- | --- |
| Rose Otto Bulgaria*, Organic | | |
| Rose Otto Morocco*, Organic | | |
| Rose Abs. Bulgaria*, Organic | | |
| Rose Abs. Morocco*, Organic | | |
| Rose Abs. Turkey*, Organic | | |
| Rose Abs. South Africa, Organic | | |
| Rose Abs. India | | |

Notes:
*Rosa damascena varieties; the other unmarked varieties are Rosa centifolia/gallica.
All products listed above are 100% concentrated pure Rose Otto and Absolute. Nothing was added. These true Oils are the very highest quality available worldwide. Your absolute delight is fully guaranteed or your money will be cheerfully refunded.
Minimum Order: $100. Free Shipping on orders of $350 or more.
Special Offer
All 5 of the Rose Absolutes (5 ml each): $250.00

New! Golden Organic Jojoba Oil
We now provide Golden Organic Jojoba Oil produced in Israel. Supreme quality, the most perfect carrier Oil for Essential Oils, with an unlimited shelf life.
| | |
| --- | --- |
| One Liter: $95.00 | |
| Two Liters: $165.00 | |
when included in your Avraham Aromatherapy order.

The world of Rose Oil
There are two Basic types of true "Rose Oil":
Rose Otto (true Rose Essential Oil, also known as Rose "Attar") is produced by a process of steam distillation, in which 3,000 to 5,000 Kg of fresh flowers are needed to produce just 1 Kg of Oil. The pure Oil ranges in color from various shades of pale yellow to olive yellow, and it congeals to a waxy thickness when cooled below room temperature. The fragrance is intense, deep, sweet, rosy-floral and tenacious. Certain fragrant components do not separate out from the distillation water, so the fragrance of Rose Otto, while absolutely exquisite, does not perfectly match that of the original flowers before distillation.
Rose Absolute (Abs.) is produced by solvent extraction, with volatile solvents such as hexane. In a careful and professional process, all traces of solvent are removed from the final product. Extraction requires about 1,000 Kg of flowers to yield 1 Kg of Absolute, and it is thus less expensive than Rose Otto. The Absolutes from different regions of the world range in color from amber yellow, bright orange to burgundy red, and olive green. It is a viscous liquid with a deep, rich, sweet, exquisite, rosy-spicy and honey-like fragrance. This product is a total extract that has the true and complete fragrance of the original flowers in fresh abundance.
History: Rose flowers are native to ancient Persia and other parts of Asia Minor. The Persians are credited by many historians with the discovery of Rose Otto, and were the first major producers in the 10th century. Merchants later brought Rose bushes to Bulgaria and Turkey. It is also speculated that Avicenna, the famous Arab physician, distilled the first Rose Otto. It was probably the very first Essential Oil he ever produced for his medical practice. Other historians say that the first Rose Oil was produced in India to celebrate the wedding of Shah Jahan, who built the Taj Mahal and Shalimar Gardens as a gift for his wife. It is also likely that the ancient Egyptians and Hebrews knew the secrets of distillation long before his time. Remains of Roses have been found in Egyptian tombs, and a red Rose is depicted at the 4,000 year old palace at Knossos in Crete.
Botanical Names: The varieties Rosa damascena, Rosa centifolia, and a hybrid of Rosa centifolia with Rosa gallica, are used today to produce Rose Otto and Rose Absolute. From the huge family of more than ten thousand varieties of Roses, these three are the only varieties that will yield enough Oil to be commercially viable.
Rosa damascena ("Rose damask") is cultivated in Bulgaria and Turkey, and a small amount in India and other countries. Pink fragrant flowers.
Rosa centifolia/gallica ("Rose de Mai") is cultivated primarily in Morocco, Egypt, India and a small amount in France. Large pink or rosy-purple fragrant flowers.
Primary Uses:
A beautifully fragrant Perfume.
Absolutely heavenly!
Nourishes the skin. Suitable for all types of complexion. A cell rejuvenator, antiseptic and anti-inflammatory. Used in skin creams and lotions, especially facial care products, to sooth and heal many skin conditions, cuts and burns and to reduce swelling. Especially valuable for dry, ageing or sensitive skin, as it has a tonic and astringent effect on the capillaries. Treats wrinkles, eczema and herpes.
Female Imbalances can be very effectively treated, including menstrual cramps, irregularities in the cycle, PMS symptoms, and to lessen moodiness during menopause. Rose is the most important of all Oils in treating disorders of the female reproductive system, having a powerful effect on the uterus. Cleansing, purifying, regulating and tonic. Rose Oil can also be a very helpful treatment for women who have a tendency to miscarry, and it aids conception. Helps relieve suffering from post-natal depression. Ruled by Venus.
Frigidity and Impotency treatment. Perhaps the most valuable Oil for any woman who is not completely secure in her own sexuality. Also, Rose Oil helps to put men in touch with their gentle, sensitive, intuitive and more feminine-like qualities.
Romantic stimulation and enhancement. This fragrance is a powerful aphrodisiac, antidepressant, sedative, comforter and stress reliever. Very effectively treats grief, jealousy, resentment and anger.
Mind enhancer. Stimulates brain waves to keep the mind focused and alert. Treats headaches, fever and eye infections. Rose Oil can also be used to aid sleep. It is supremely valuable in treating tension, depression or sadness. Marvelously uplifting and helpful in relieving all types of relationship and identity difficulties, as an overall feeling of well-being and happiness can often be achieved. Rose Oil is the universal medicine for all ailments, as it brings a person back to Life. An aid to meditation and contemplation.
Asthma, Coughs and Hay Fever can be treated through inhalation. Rose Oil also treats digestive difficulties, nausea, palpitations, poor circulation, liver congestion and many other types of imbalances.
Methods of Treatment: Rose Otto and Rose Absolute work therapeutically on the spiritual, emotional, mental and physical body levels simultaneously. Treatment methods include Massage (5-10 drops in 5-15 ml of Sweet Almond or Grapeseed carrier oil), Bath (4-8 drops in warm water), Inhalations (with various devices), or wearing the Otto or Absolute (at 10%-50% concentration in Jojoba Oil) as a heavenly fragrant Perfume. Overall, all methods of treatment are effective, but a Massage is the most transformative.
Blends: Rose Otto and Rose Absolute blend beautifully with high-quality Oils of Bergamot, Clary Sage, Geranium, Jasmine Abs., Lavender, Mandarin, Neroli, Patchouli, Roman Chamomile, Sandalwood, and Ylang Ylang.
Safety: Rose Oil is the least toxic of all Essential Oils, and is said to have the very highest spiritual vibration of all fragrances.


Back to Top